Everything small businesses need to know about Launching a campaign on Amazon in 7 easy steps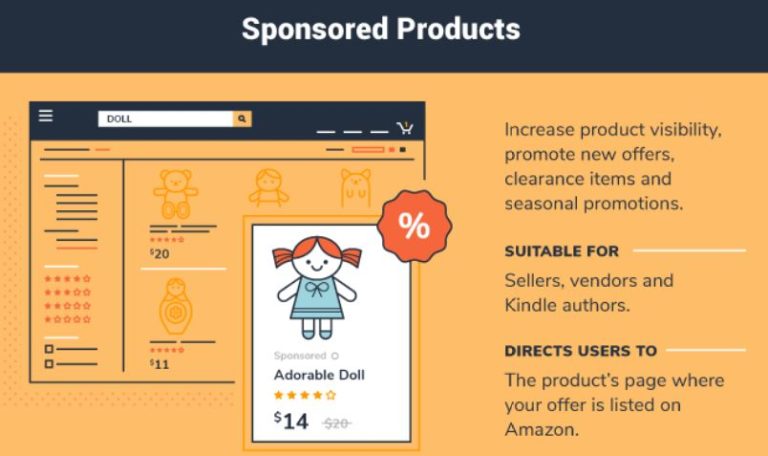 Launching a campaign on Amazon in 7 easy steps. Did you Know that can be done easily?
A financial publisher based in the UK, created an infographic guide aimed at helping small businesses get started with advertising on Amazon by Launching a campaign on Amazon in 7 easy steps.
The infographic, Launching a campaign on Amazon in 7 easy steps presents a visual summary of advertising options available on the platform and includes some tips that small business can use to get started with launching a campaign. A Small Business Guide to Amazon Advertising.
In this post, we'll summarize some of the key insights from the guide, including a list of next steps that will help you get Launch your amazon campaign and get ads running on Amazon in no time.
Unless otherwise noted, all statistics and images in this post have been taken, with permission, from the original infographic.
Amazon's enormous retail reach
Based on gross merchandise value (GMV), Amazon is the second largest ecommerce website in the world (second only to China's Alibaba) and the largest in the U.S.
It receives over 200 million visits each month and is the first-choice ecommerce destination for many shoppers, with 56% of consumers visiting them before any other website. About 47% of consumers begin their product search on Amazon, versus other search engines such as Google or Bing.
According to a 2018 Poll, nearly 70% of small businesses who sell a product online say that Amazon has had a positive impact on their sales. Advertising on it can help small businesses reach the  online retailer's vast audience in a variety of ways.
If you're an existing seller:
Sponsored products
Sponsored brands
Sponsored display ads
Stores
If you don't sell directly on the platform:
The infographic breaks down what each ad product looks like and summarize some tips for getting started with your first campaign.
Ad products for existing Amazon sellers
There are roughly one million small businesses currently selling on Amazon. That's a lot of competition, which is why it's important for businesses to understand the different ad formats available on the platform and what they're used for.
Sponsored Product Ads: These ads appear in the search results and product detail pages within Amazon. Advertisers pay on a per-click basis, thus there are no up-front fees required. Sponsored product ads are a good fit for sellers, vendors, and kindle authors who want to promote their merchandise/books.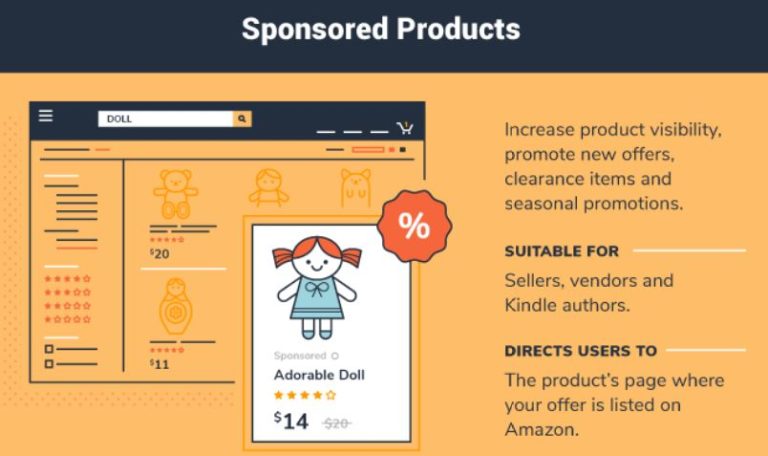 Example of a sponsored product placement on Amazon—Source: Businessfinancing.co.uk
Sponsored Brand Ads: Brand ads appear on Amazon product pages or within the landing page of your store and are triggered by relevant searches. As with sponsored ads, there are no monthly fees associated with brand ads. Advertisers pay only when a user clicks on the ad.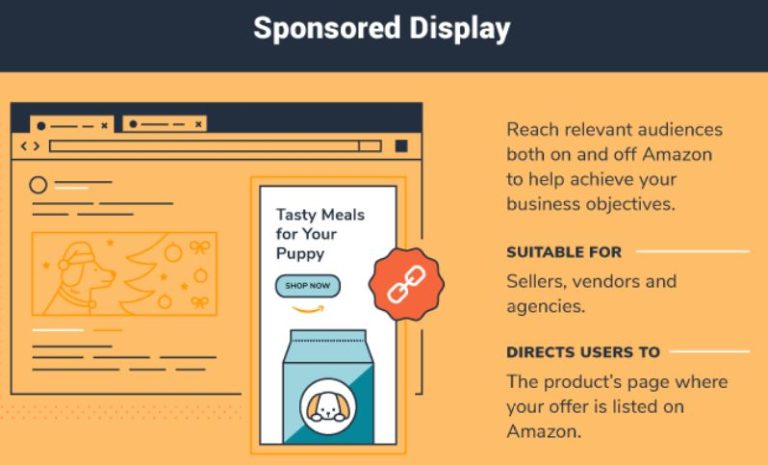 Example of an Amazon sponsored display placement—Source: Businessfinancing.co.uk
Amazon Stores: An Amazon Store is free to create and acts as a hub where all your products are listed in one place. Stores are suitable for sellers, vendors and agencies. Stores are great to aid with product discovery and branding. They can be designed without any coding using predesigned templates provided by Amazon. Stores are available to sellers enrolled in the Amazon Brand Registry, vendors, and agencies and you do not need to advertise on Amazon to create a store.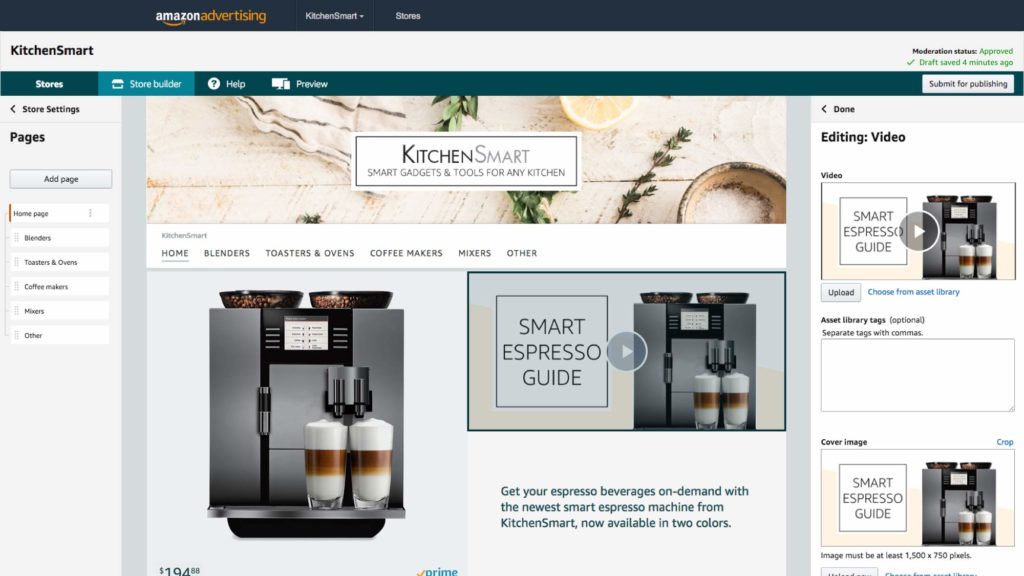 Example of an Amazon Store—source: Amazon
What if you're not an amazon seller?
Launching a campaign on Amazon in 7 easy steps is also available to those who are not an amazon seller.
You can still advertise on Amazon and its associated properties if you're not currently a seller or vendor on the platform. It offers two ad formats—display ads and video ads—which business can leverage to promote their brand, products, and services.
Display Ads: Display ads (not to be confused with "sponsored display ads) can appear on Amazon, websites operated by them, apps and third-party sites. Display ads can be purchased using their self-service demand-side platform (DSP) or via managed-service option which requires a minimum spend of $35,000. Display ads are priced on a cost-per-thousand (CPM) basis.
Display ads enable businesses to show ads both on and off Amazon, including within apps. When someone clicks on the ad, they can be directed to the product page, your store page, a custom landing page on Amazon.com or an external website.
Video Ads: As with display ads, video ads can link to a product page, external website or landing page. Amazon video ads appear on its owned websites such as IMDb and devices including Fire TV. Video ad pricing varies based on ad format and placement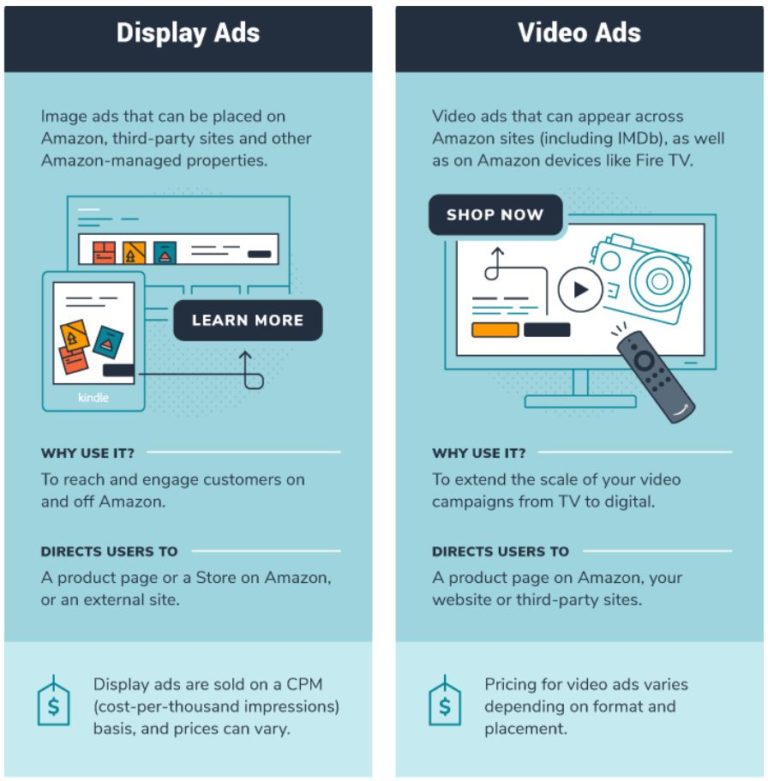 Example of display and video ads available for non-sellers—Source: Businessfinancing.co.uk
Launching a campaign on Amazon in 7 easy steps, so what are the Seven steps to launching your campaign
The infographic outlines—and helps to visualize—a seven-step approach to getting your ads up and running on Amazon quickly.
Pick a descriptive campaign name
Decide on a monthly ad budget
Set an end date for your campaign
Choose "automatic targeting" so Amazon can generate keyword and product matches automatically based on user searches
Select one product per campaign
Select your keywords
Understand the available bidding strategies, then choose the one that's right for you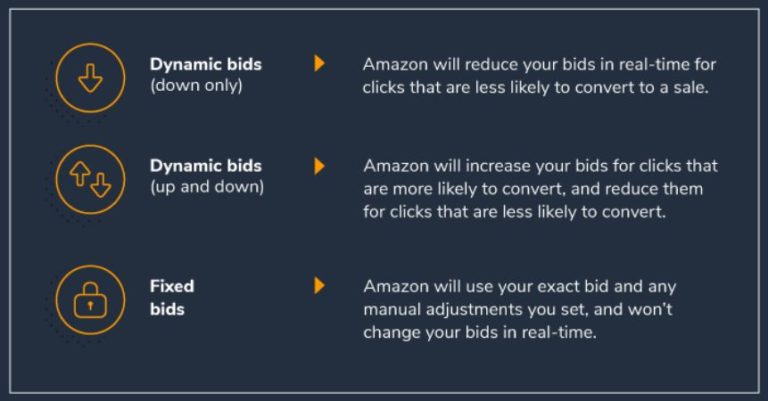 Amazon offers three bid strategies for advertisers as shown above— Source: Businessfinancing.co.uk
Amazon provides step-by-step instructions (as well as $50 in free clicks) for sellers who want to get started with advertising on the platform. Their advertising page provides all the relevant details.
Create maximum impact with campaign optimization and monitoring
Once your campaign is launched using our guide "Launching a campaign on Amazon in 7 easy steps", you should immediately begin to monitor and optimize its performance. The infographic lists several techniques that small businesses can use to help their ads stand out and perform well including adding negative keywords to ensure your ad isn't triggered for irrelevant searches (e.g., if you sell dog food, you don't want your ad to show for someone searching for "cat food.")
Other tips focus on the type of language to include (and not to include) in your ad copy and the best way to leverage different ad types so that they work together (e.g., by keeping display ads running at all times).
This post originally appeared in businessfinancing.co.uk