Three pillars behind every successful content strategy and content marketing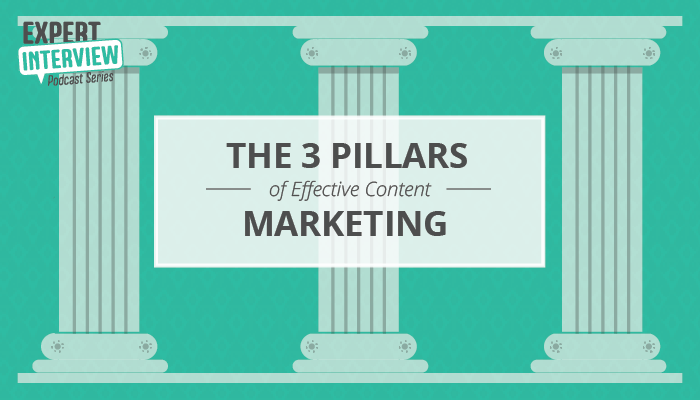 As inbound marketing continues to be a dominant force, you've likely heard the phrase "content is king" more times than you can count. But getting the right message to the right person is not an easy task in a society that's tangled in a web of digital content, and it requires a top-notch content strategy. 
A solid content strategy can help create meaningful, cohesive, engaging and sustainable content that attracts new customers and retains existing ones. Despite the importance that great content can have on your business, two of the biggest challenges for content marketers are knowing how to prioritize marketing efforts for one audience over another and communicating a content strategy effectively across teams so that everyone is on the same page.  
Content marketing is different than your typical product marketing efforts as it includes digital materials that answer specific questions and provides customers with valuable tools and information they aren't getting anywhere else. These include: 
Educational articles 

Blogs 

E-books 

Videos 

Entertainment

Webinars 

Social media 

Graphics 
Planning a content calendar that includes every item on this list may seem daunting, but there are simple ways to get started.
The idea behind smart content planning is simple. You want to plan content in a way that is:
Tied to an overarching business objective

Linked directly to audience needs and desires 

Can be shared in a simple and consistent format
The result is a content calendar that is more relevant to what people are searching for and is also differentiated from the competition. Today, smart content planning tools that use artificial intelligence are becoming more readily available and are making adopting this process a no-brainer.
While a Google search will yield a laundry list of best practices, the following three pillars – or fundamental building blocks – will help you create a successful content strategy that drives results. 
Plan content to meet business needs
To be truly effective, all content needs to be anchored to a clear business objective. Why? Because if it doesn't, there's no way for you to measurably show that it impacts the company's growth. You may be nodding your head that yes, of course, it makes sense to plan content with the business objective in mind. But, how do we do that in a way that is meaningful and simple? 
You can start by picking an upcoming marketing initiative and stating the quantitative business goal, the intended audience and the competitive context for that initiative. Treating a business objective statement as a template that must be completed for each marketing initiative helps you to face the ambiguity and misalignment that may be bouncing around your organization. Keep in mind that it doesn't have to be perfect – the power comes from thinking about what matters most and then pressing forward with your best judgment.  
Understand your audience
Once you've created an objective statement, your entire team can focus on the true reason behind producing content in the first place: your audience. It's easy to get caught in the whirlwind of day-to-day tasks. In that moment of desperation, marketers make a choice between creating content the right way and simply getting content out the door. In reality, content is the very first glimpse of a brand that customers see and first impressions matter. Not only is content your front runner for garnering new customers, but it guides customers through every stage of the buyer journey including initial sale and retention. 
A recent survey showed that 70% of consumers feel closer to a company as a result of content marketing. However, this is only possible when you understand your audience at a deep level so that the content you create answers the questions they have, helps them do their job more effectively, inspires, or entertains them. 
Understanding your target audience's needs and desires requires the right tools. One way to make sure your content is helping the customer is to build – and then reference – personas when creating content. The modern marketer has access to content intelligence tools that provide key insights to help choose which topics to share, what channels to use and when to go live during the buyer journey. Using multiple data points like CRM, search data, the website traffic, and social listening can diminish false assumptions about your target audience and provide insights on: 
Targetable characteristics 

Customer journey 

Needs and desires 

Perceptions of our strengths vs. competition 

Content format preferences 

Marketing channels where our audience hangs out 

Past content performance
Align your team with the strategy 
We know inconsistent external messaging can lead to brand confusion, which in turn leads to a decrease in brand loyalty. The same happens with confusing internal communication. It causes internal teams to lose sight of business goals. The childhood phrase "sharing is caring" is applicable to small and large businesses. When your content strategy is shared within your organization, it will drive alignment across your company and create a stronger brand. As an added bonus, when your team members understand what you do and how you do it, it's natural for them to see you as a leader. 
Once your team understands the "Why?" behind your content strategy, it's important to create a central location for your content planning to live. Having all content in one spot can make your content more likely to be tied to overarching business objectives, and overall, it's easier for all departments to align their internal activities with the overall business objectives. 
Planning effective content is hard and takes time, but don't give up! The first step to improve your content planning process is to recognize that smarter content makes a big impact. Remember, smart content starts with an objective statement, audience insight, and a clearly communicated plan. When you take the time to research and outline your audience's needs and desires, your content will thank you and so will your audience.
Documenting your content marketing strategy gives you the ability to communicate the importance of your content across departments, increase engagement levels with target audiences and create better alignment around customers and marketing priorities. Moving toward smart content planning can add that special 'something' to your organization. Let your content strategy be your competitive advantage. 
The post The three pillars behind every successful content strategy appeared first on Search Engine Watch.